Product Description
AC/DC 20V 4.25A Desktop Power Supply Adapter
AC/DC 20V 4.25A Desktop Power Supply Adapter Description:
Desktop power adapter is a kind of external power supply, to provide transformed voltage for electronic products we usually use, such as laptop, router, electric massager, table lamp etc. Qualified power adapter requires good quality electronic components, so that it`s life span and work efficiency could be guaranteed. Inferior electronic components are used in the power adapter, will reduce the working times of products, and it`s not safe for other products.
JYH power adapter always chose qualified material to manufacture power adapters, because we believe quality is the life source of enterprise.
20V4.25A ,85W rated output, 100Vac-240Vac input, 1.2m DC cord, IEC320-C6C8C14 socket, DC jack size, 5.5*2.5*10mm or 5.5*2.1*10mm, DC plug polarity is center positive and outside negative. Above data is standard, if you demand other DC cord length or DC jack size, we can also satisfy your requirements.
Input voltage
100Vac240Vac 50/60 Hz 0.5A
Output Voltage
5V-48V
No load power consumption
<0.21W
Output loading precision
±5%
Dielectric withstand
3,000Vac primary-secondary
Leakage
0.25mA@2 pin
Operating temperature
0℃-40℃
Storage temperature
-20-80℃
Protection




Short circuit protection

Overload protection

Over voltage protection

Over current protection

MTBF

30,000 hours

Certification approvals
UL/CUL/FCC/CCC/CB/CE/SAA/C-Tick/ROHS/CEC.DOE VI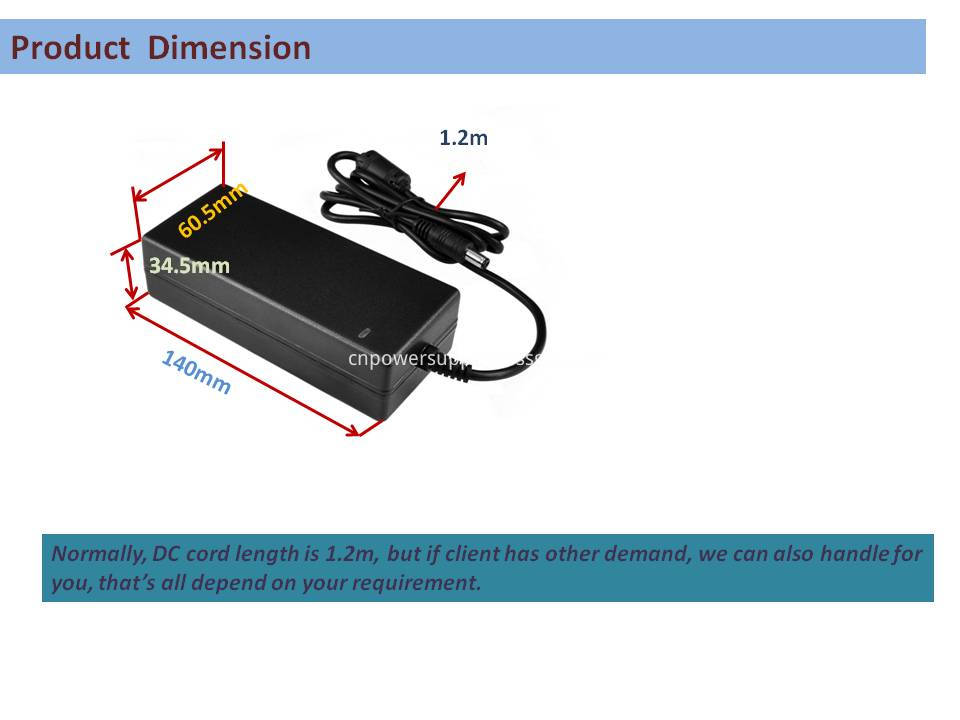 1. Current normally used DC connector specifications as below:
1) 2.5*0.7(outside diameter*inside diameter, similarly hereinafter), for short DC2507, mostly used for small size electronic products, such as panel computer that is due to volume limitations, at present, famous brand panel computer almost adopt MicroUSB connectors to charge.
2)3.5*1.35(DC35135): mostly used for set-top box, USB HUB external power supply, IP camera(AKA webcam, the industry calls it a head machine), LED desk lamp.
3)4.0*1.7(DC4017): mostly used for mobile DVD, EVD, PSP, a part of set-top box.
4)5.5*2.1(DC5521): current mostly used is DC round connector. Security monitor, a part of set-top box, LED desk lamp, digital home appliance etc.
5) 5.5*2.5(DC5525): Mainly used for equipments that power is a little bit bigger. Some certain laptop computer, electronic bicycle etc. This kind connector can be also uesd in DC5521 female socket.
2. DC connectors of specification for normally used products as below:
Panel computer: 2.5*0.7mm
Set-top box: 3.5*1.35mm 4.0*1.7mm 5.5*2.1m
Router: 3.5*1.35mm 4.0*1.7mm 5.5*2.1mm 5.5*2.5mm
Note:
Due to different manufacturers may produce same kind equipment, but it cause the DC connector and female plug in the equipment have difference, pls check what kind of DC connector you need before you decide to buy it!
Applicable products: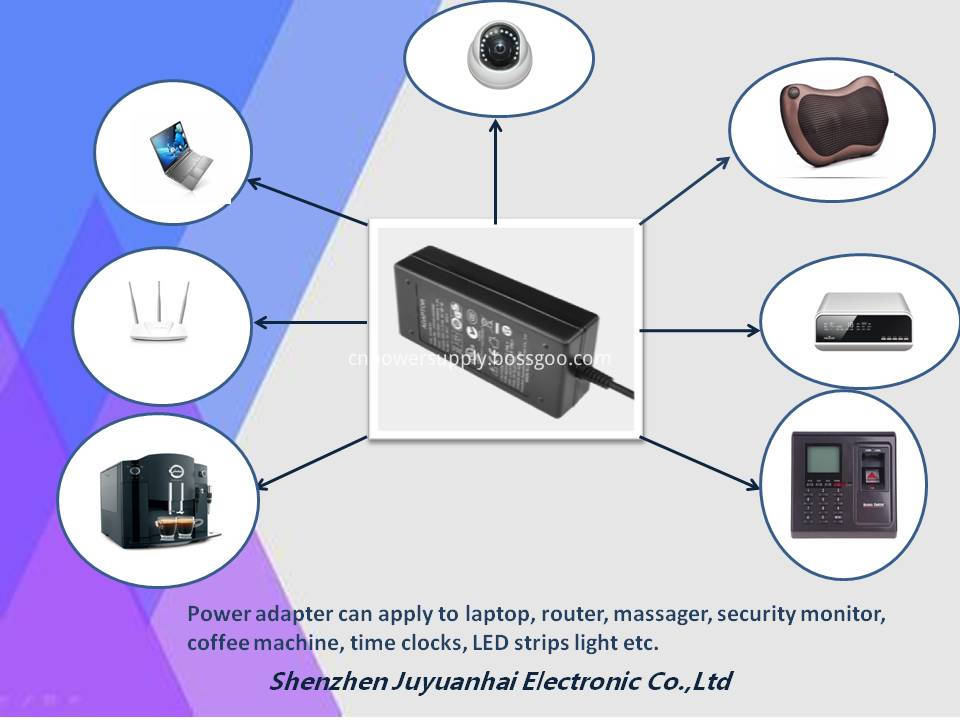 Except above products, desktop power adapter is widely used in ITE products, office working series products, consummer electronic products, industry use products, household products etc.
Certification approval: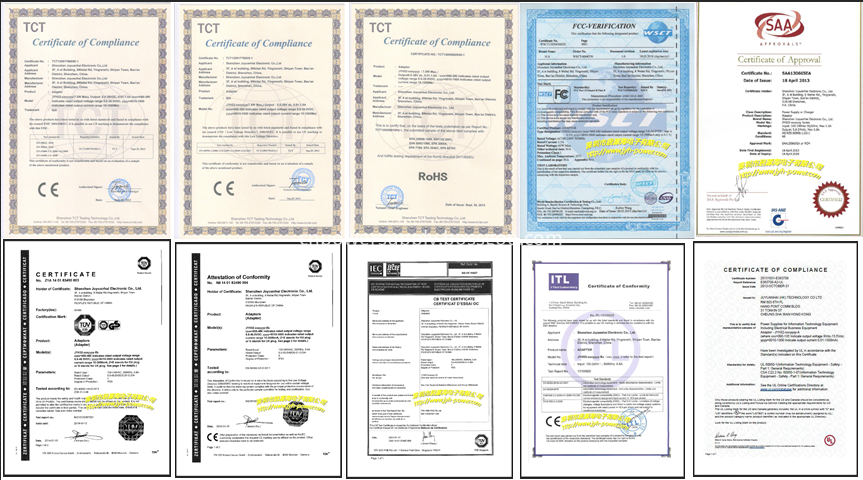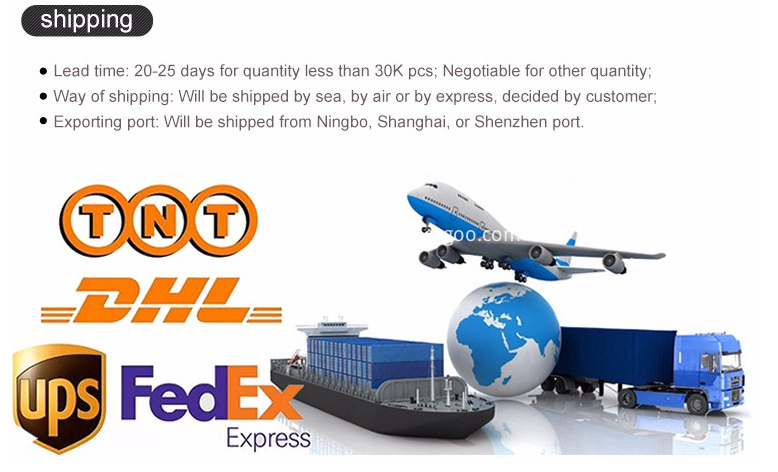 FAQ
1, What kind of company we are?
We are professional power supply manufacturer with high reputation in this field.
2, How we control the quality?
Aging test for 8 hours, after then we put them into the market.
3, Can we accept samples customized?
No problem for samples order, and welcome your testing before your big order.
4, What about the production capacity?
1-2 days for samples order under 10pcs, 7 days for general order under 10000pcs.
5, OEM and ODM are available?
Yes, we accept customized products.
6, Will the delivery time be long for a big order?
No, we have two special parts in production line, one for samples orders, another for big orders.
7, What is our warranty service?
For all products we sell have 2 years warranty.